Reliability Improvement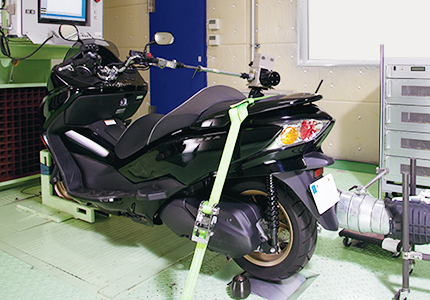 Motorcycle chassis dynamo
Mitsuba strives to provide products that can be used safely in diverse environments in all regions of the world. To that end, we never fail to test our products for a multitude of qualities, such as heat resistance, shock resistance, and weather resistance when they are mounted on actual vehicles, and conduct tests from all angles in order to improve product reliability.
With our "two-wheel chassis dynamo," actual running conditions are reproduced on the chassis table so we can confirm running reliability such as the operational status and temperature of each electrical component system.
With our "built-in chamber," temperature toughness and the system operation status of each electrical component are evaluated on an actual vehicle in low- and high-temperature environments from -50ºC to +85ºC.
In the "windtunnel test room," we evaluate wiper performance under a 230 km/h high-speed driving condition.
We also use noise reduction technology to improve product performance, using a "semi-anechoic chamber" for evaluation and analysis under actual vehicle conditions, and a "radio frequency anechoic chamber" to evaluate electromagnetic interference (EMI) and electromagnetic susceptibility (EMS) .
At our analysis facility, equipment for analyzing materials and material property measurement equipment are integrated so that we can evaluate various materials and resolve problems to help improve usability and quality.
Radio Frequency Anechoic Chamber

Anechoic Chamber

The X-ray CT equipment within the analysis