We are endeavoring to improve our technologies and skills in order to improve the quality of our products, services, and work. At the same time, we have a vision of who we can be and what we can accomplish in the future by expanding our fields of interest, and proactively developing technologies. The source of our power to produce new valuable products stems from the curiosity of each individual, tireless research and effort, and the achievements of technology transfer.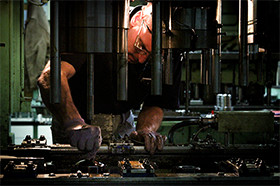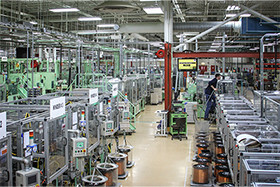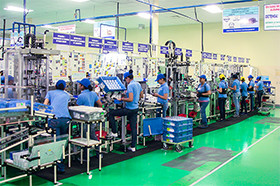 Mitsuba is developing a global production and supply system for customers throughout the world.
To accommodate the needs of our customers with quality, cost, and short lead-time, Mitsuba has established integrated production systems for motors and system products, including material processing such as press working and machining, surface treatment such as plating and heat treating, plastic forming, electronic substrate assembly, and motor system assembly.
Mitsuba responds to an extensive range of customers' needs through our diverse product lines, from motors to automobile components such as relays, horns, and lamps.
In order to continually improve the competitiveness of our products, we are working to improve productivity by eliminating all waste and making production activities smarter through the utilization of digital technology.
Manufacturing technology is evolving and being taught at Mitsuba vocational training schools and through the core technology education and manufacturing technical committee. Such activities help employees to grow. We are also developing IoT and AI while putting them to practical use, which leads to more efficient production activities.
Cars are rapidly changing and evolving. Mitsuba's plants also evolve, together with the Mitsuba brand, Mitsuba technology, and the Mitsuba way of manufacture, in step with the needs of the times, to bring customers a product to be proud of .