Passing On Technologies and Skills
Passing down technologies and skills, learned through long years of experience, is not easy. Therefore, we consider it as an important job.
Mitsuba's Certified Advanced Professional Training School
Mitsuba founded the corporate training school in 1977 for the purpose of training employees in a broad range of advanced knowledge and skills to become competent personnel with the personality and culture to lead corporate development.
Up to six people who have received recommendations in the workplace after working for the company at least one year acquire skills and knowledge for their respective workplaces in each division including machining, precision processing, plastic processing, and electronics. They attend classes in the morning, and in the afternoon, they receive training by actually handling work at training sites.
Technical Olympics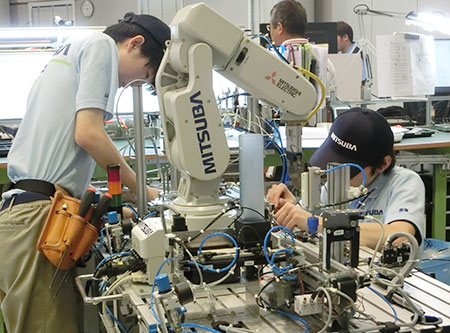 The Technical Olympics are held annually for the purpose of "nurturing young skilled workers who will assume productive roles in the future." The contestants, all under the age of 24, compete in about 40 events in areas such as electronic engineering, machines, metal working, construction and building, and service and fashion.
Mitsuba employees have achieved excellent results at national competitions winning silver, bronze, and fighting‐spirit prizes at events for machine assembly, electronics assembly, and mechatronics.